The lens is a mass of technology incorporating a material (which determines the thinness), an optical surface (to perform the corrections prescribed by your ophthalmologist) as well as one or more coatings (anti-reflective, scratch-resistant, harmful blue light protection, etc.) and perhaps a sunlight tint.
Single-vision lenses are corrective lenses designed to correct only one type of vision: near vision or far vision. Also called unifocal lenses, single-vision lenses are lenses whose corrective power is the same across the entire surface These lenses can therefore correct the sight of short-sighted, far-sighted and astigmatic people with only one pair of eyeglasses.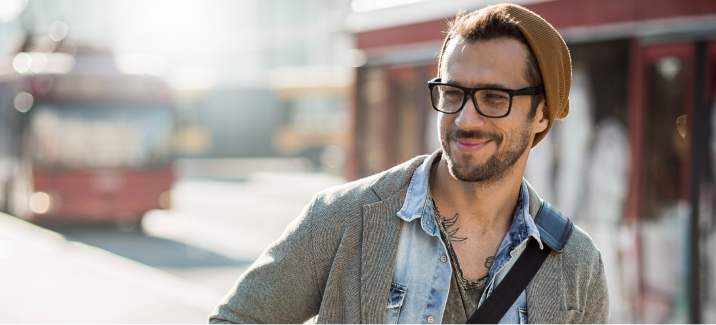 The right attitude

A sight defect like myopia or astigmatism, however slight, must always be corrected. Perfect far vision is essential, for example, when driving. It is a serious matter of safety. If you sometimes think "my sight seems to have got worse" or "Maybe I need eyeglasses", you should visit an ophthalmologist or ask for advice from an optician. Your new lenses will considerably improve your quality and standard of living.
When they are in good condition, the muscles of the visual system constantly contract and relax. This enables them to maintain visual clarity and focus easily, both for near and far vision.
After prolonged near vision efforts, the muscles tend to stay fixed. Focusing thus becomes more difficult. Vision becomes blurry and some pain may be felt…this is eye strain.
Luckily, there are 'advanced' single-vision lenses that include a slightly higher power towards the bottom of the lens, which supports accommodation for near vision and improves comfort when looking at a screen.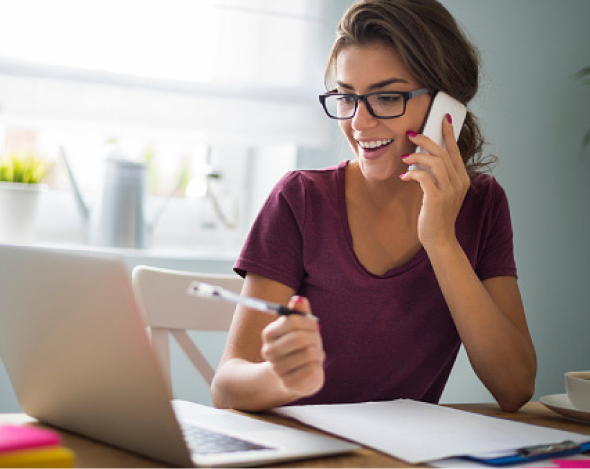 Progressive lenses allow wearers to see clearly at all distances, both near and far, with the same pair of eyeglasses. They make vision comfortable when looking at the horizon, driving, working at a computer and reading a smartphone.

A progressive lens is therefore a lens whose correction progressively changes from the top to the bottom of the lens, without any visible difference.

Progressive lenses are the perfect solution for correcting presbyopia which makes near vision difficult after the age of 40. While presbyopia is unavoidable, progressive lenses correct it while ensuring comfortable vision at all distances.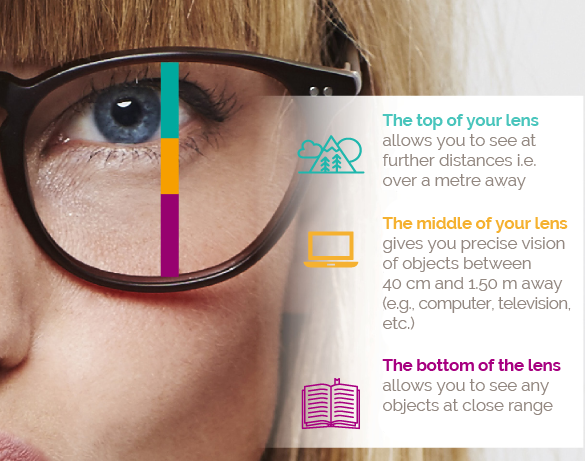 Using a coating improves the lens's quality and performance, as well as the wearer's image clarity. Offering protection tailored to your lifestyle and your needs, you can add protection against scratches, reflections, smudge, static and UV rays.

For maximum comfort and protection, BBGR has also developed anti-reflective coatings that protect against both blue light and UV rays, while also reducing glare at night.

The coating comprises several layers, micrometres thin, that protect the lens and make it more comfortable to wear.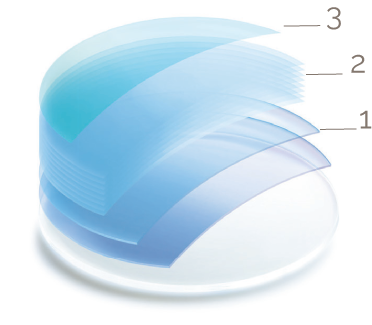 1. The protective varnish protects the lens from scratches and extends its lifespan. 2. The anti-reflective coating eliminates reflections to clarify vision as much as possible and improve contrast perception. 3. Anti-smudge and dust coatings prevent your lenses from getting dirty too quickly and makes cleaning easier.
Sun and photochromic lenses

The E-SPF® index rates your lenses* overall protection against UV rays, including UV rays reflected from the rear surface of the lens (the 'back' of the lens). The higher the index, the better the protection.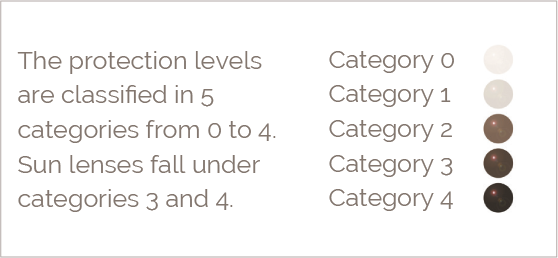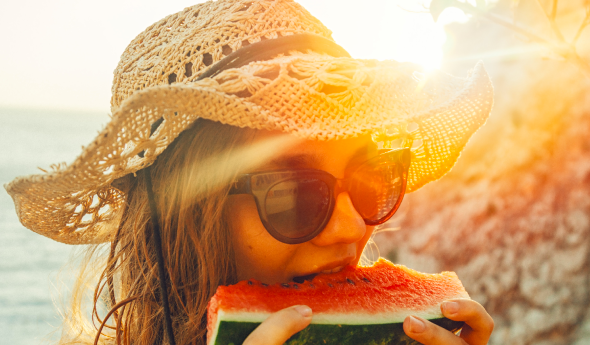 Preserve your eyesight by wearing tinted lenses with the E-SPF® label. Ask your optician for advice on the tint best suited to your correction and lifestyle.
BBGR's protection against UV rays
BBGR's clear and sun lenses with the E-SPF
®
label offer maximum protection against UV rays. Moreover, the Neva
®
Max Solar UV coating absorbs UV rays on the rear surface of the lens, thanks to the E-SPF
®
50+ index, the highest protective E-SPF
®
index for sun lenses :
Maximum protection against UV rays
Less glare from UV rays reflected from the rear surface

1. Kolozsvari L, Nogradi A, Hopp B, Bor Z. UV absorbance of the human cornea in the 240- to 400-nm range. Invest Ophthalmol Vis Sci. 2002;43(7):2165–2168.

2. Citek K, Andre B, Butler JJ et al. The Eye and Solar Ultraviolet Radiation: New understandings of the hazards, costs, and prevention of morbidity. Report of a roundtable. June 2011. Calculation based on urban workers in the northern hemisphere.

3. Fishman GA. Ocular phototoxicity: guidelines for selecting sunglasses. Surv Ophthalmol. 1986; 31(2):119-24.

4. Citek K. Anti-refl ective coatings refl ect ultraviolet radiation. Optometry 2008; 79143-148. E-SPF® (Eye-Sun Protection Factor) is an index describing the overall protection of a lens against ultraviolet rays. The E-SPF® index was developed by Essilor International and validated by an independent laboratory. The E-SPF® index only measures the performance of the lens and does not take into account the eye's exposure to UV rays caused by external factors such as the wearer's morphology, the shape of the frame or its position on the face. E-SPF®, E-SPF® 25, E-SPF® 35 and E-SPF® 50 are registered trademarks of the Essilor International Group.

■ UV rays can cause irreversible damage to our eyes. In particular, they are one of the risk factors of cataracts (1).

■ UV rays threaten our eyes all year long. 40% of our annual exposure to UV rays occurs when we are not in direct sunlight (2).

■ Children are particularly sensitive to UV rays. Since their crystalline lens is more transparent, it filters fewer of the harmful rays. Under 10 years old, a child's eye lets through approximately 7 times more rays than an adult's (3).

■ Up to 50% of UV rays that reach the lens's rear surface can be reflected back to the eye (4). However, most sun lenses are not designed to filter UV rays on their rear surface. They thus do not provide complete protection for our eyes.
The material used for eyeglass lenses must be transparent, solid, scratch-resistant; absorb UV rays and not distort colours. It must also provide the wearer with a thin and light appliance. To do so, there are different lens refractive indexes. The indexes for these materials (ranging from 1.5 to 1.74) make it possible to achieve, depending on your correction, a stylish, thin and discreet lens.