Has your eyesight changed and you need new glasses? Or just want something new?
Despite the containment measures in force, your optician can welcome you.
Here are our tips for preparing your visit to the store and renewing your glasses without stress:
 Remember to take your prescription before going to your optician
This prescription gives the measure of your correction, it is therefore essential for the optician to renew your glasses.
If you have not managed to get an appointment with the ophthalmologist, do not worry, unless the latter is contraindicated, your prescription is valid for several years: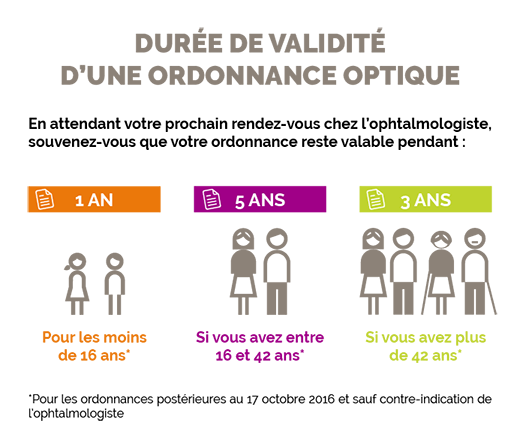 Your optician will therefore be able to check your eyesight during your next visit and renew your corrective lenses if necessary*.
Please note that this test does not replace regular medical monitoring with your ophthalmologist. So remember to make an appointment as soon as possible..
* Renewal possible within the limit of a variation of + / – of 0.25 diopters on the 2 glasses and except against the indication of the ophthalmologist. 


As you know, given the current situation, the reception arrangements for your opticians are likely to change:
Make an appointment before going to the store
Limited number of people in store
Rules of one meter distance to be observed
Limit of a single accompanying person for accompanied persons
Do not hesitate to contact your optician to make sure it is open and prepare your visit with peace of mind!
Protect yourself and protect others!
The mask is now part of our daily life.
Whether you go out for shopping or to try on glasses, take it with you to respect all the barrier gestures recommended by the government.
Trust your optician, he will guide you